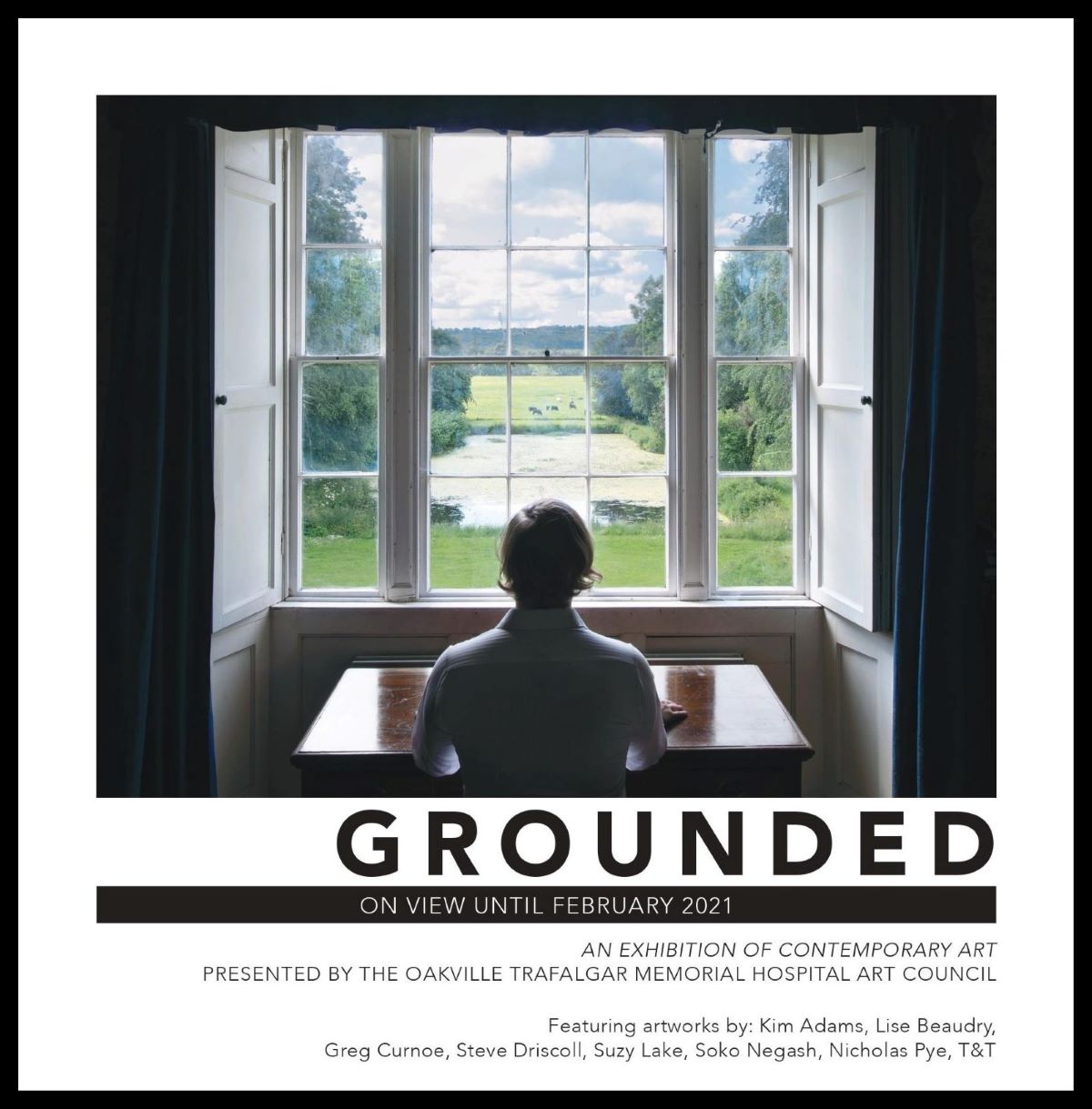 Grounded
Artists: Kim Adams, Lise Beaudry, Greg Curnoe, Steve Driscoll, Suzy Lake, Nicholas Pye, Soko Negash and T&T
Oakville Trafalgar Memorial Hospital
An exhibition at the Oakville Trafalgar Memorial Hospital, titled "Grounded," considers the complex relationship between people and nature, and the importance of maintaining this connection. It resonates in photographs by Suzy Lake and Nicholas Pye, as well as in Steve Driscoll's paintings, in terms of the need to slow down and take time to reconnect with nature. Lise Beaudry's photo-based work derives from the landscape of her childhood—a touchstone for remembering the past, while Soko Negash reconnects to the healing methods used by her family and local community through still lifes of various traditional remedies gathered from nature. Through prints and sculpture, T&T and Kim Adams imagine future innovations for ecologically-minded lifestyles, while Greg Curnoe's work celebrates an environmentally-friendly mode of transportation. Conscious of the realities of ever-increasing urbanization and climate change, Grounded suggests that our sense of self and well-being are intricately tied to the natural environment.
Publication: Art Tour Guide available for download on the OTMH Art Council webpage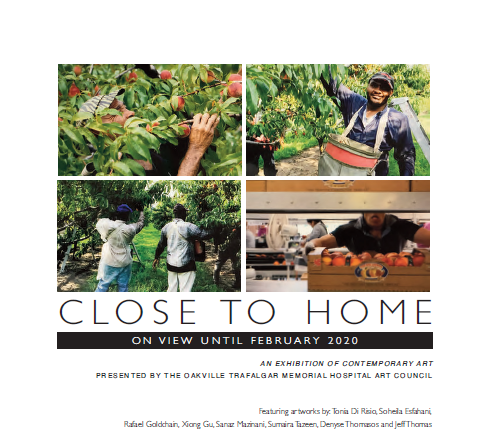 Close to Home
Artists: Tonia Di Risio, Soheila Esfahani, Rafael Goldchain, Xiong Gu, Sanaz Mazinani, Sumaira Tazeen, Denyse Thomasos and Jeff Thomas
Oakville Trafalgar Memorial Hospital
Close to Home brings together artists from a range of cultural backgrounds, with works that speak to each artist's connection to
their country of origin and to ideas surrounding home,migration, and what it means to belong. These familial connections come from near and far, such as Iranian-Canadian artist Soheila Esfahani's focus on the translation and movement of cultural influences;Canada-based Pakistani artist Sumaira Tazeen's research into the stories of recent immigrants; and Iroquois artist Jeff Thomas's photographic investigations into Canada's appropriation of Indigenous lands.Through these artworks, Close to Home highlights the unique and diverse cultural experiences that inform Canadian identity.
Wanderings - An Exhibition of Contemporary Art
Artists: Kim Adams, John Armstrong, Panya Clark Espinal, Steve Driscoll, Neeta Madahar, P. Mansaram, Andrew McPhail, Monica Tap and David Urban
Oakville Trafalgar Memorial Hospital
Wanderings is a year-long display of contemporary artworks placed along the main public corridors of the Oakville Trafalgar Memorial Hospital. It focuses on art that meanders along places and ideas: an open suitcase that leads to unknown destinations; paintings that capture the sensation of being immersed in the wilderness or a hectic urban streetscape; a photograph that captures migratory birds in temporary flight; artworks that contemplate the changing seasons, or reflect on past events. Each piece is intended to open a space of contemplation and exploration for the visitors, patients and staff who travel these hospital hallways.
Crafted - An Exhibition of Contemporary Art
Artists: Kim Adams, Lizz Aston, Carmelo Arnoldin, Janet Morton, Monika Napier, Ed PIen, Breanna Shanahan, Jay Wilson, Xiaojing Yan
Oakville Trafalgar Memorial Hospital
Crafted brings together contemporary artworks that draw from traditional crafting methods with unconventional results. Whether weaving with pop cans, or piecing together words from hundreds of toothpicks, these artworks encompass a wide range of materials and techniques in order to emphasize the value of repetitive and labour-intensive practices. This kind of intricate hand-work has a long history of providing comfort in many forms, and these unexpected and highly individualized interpretations of the medium are intended to add vibrancy, energy, and intrigue to the hospital environment.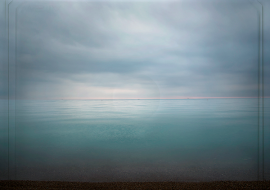 Possible Worlds - An Exhibition of Contemporary Art
Artists: Kim Adams, Sara Angelucci, Jeremy Borsos, Edward Burtynsky, Susan Dobson, Marie Heintzman, Scott McFarland, Janice Mason Steeves, Naoko Matsubara, Julia Mori, Janet Morton, Tazeen Qayyum, David Rokeby, Jennifer Walton, Xiaojing Yan
New Oakville Trafalgar Memorial Hospital
This exhibition, installed throughout the public spaces of the New Oakville Trafalgar Memorial Hospital, takes its thematic cue from the building's architectural emphasis, notably its sensitive integration of elements from nature. Possible Worlds likewise brings this environment indoors, through artworks that create an expansive experience of nature. These contemporary pieces by artists of local and national renown use a range of media, including printmaking, painting, photography, video and sculpture. The artists adopt varied viewpoints, from a birds' eye perspective that allows viewers to witness the environment at a distance, to creating near-microscopic worlds that require intimate viewing, to expressing more abstract interpretations of the landscape. The passage of time is conveyed through artworks that merge the past and the present, or interpret duration in unexpected ways. Possible Worlds invites visitors to take a moment to contemplate, discuss, and learn more about how these artists perceive and reimagine the world around them.